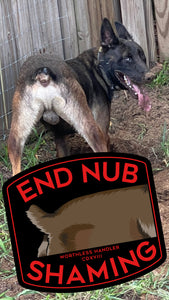 End Nub Shaming Sticker
I'd like to take a moment and talk about a very serious problem plaguing the K9 community.                       
Chances are you or someone you know has been seriously affected by nub shaming, and it's our goal to bring awareness to this issue.                                                                                                
Remember nubs, you are beautiful just the way you are, and together we can end the shame.                                                                
Die-cut Sticker
4" tall
Satin finish
UV coating to protect from fading, cracking, or peeling